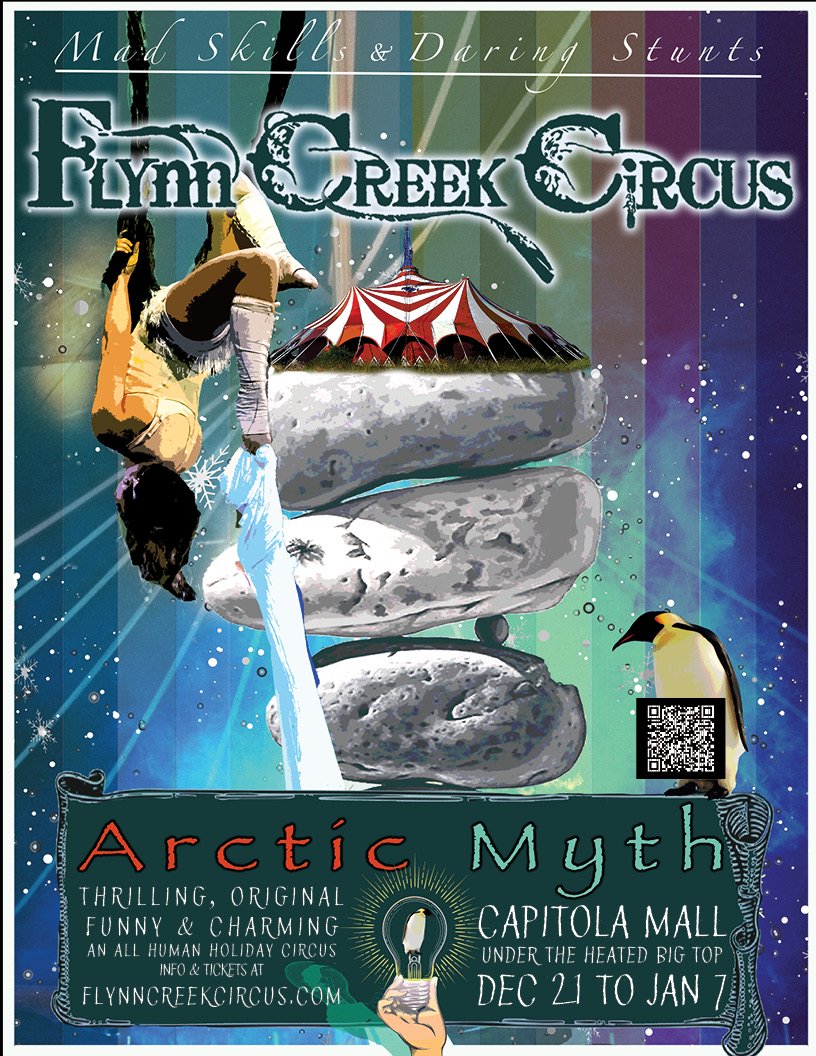 The 2023-24 Winter Show is here!
Announcing an all new show for the holiday season.
Featuring wild stunts, hilarious comedy, and mind blowing skills, 'Arctic Myth' is an acrobatic fairytale. An eclectic blend of multi-cultural folklore and absurd conspiracy theories, this provocative tale speaks to the search for connection in a cold world.
A British explorer charters an expedition to the South Pole to release penguins to the wild, discover new species and make a name for himself. In a stange twist of events powered by the magnetic powers of the Aurora Borealis, he finds himself shipwrecked with the plucky Ship's Captain in the Arctic circle. Enchanted house plants, a displaced Private Eye Penguin and abominable Snowmen are some of the colorful characters they encounter.
World renown acrobats from Ukraine, Canada and the good old USA will thrill audiences with this truly original, awe-inspiring visual roller coaster ride. Kids will remember it into adulthood. Adults will be inspired to quit their day jobs to follow their dreams.
Charming & Authentic, 'Arctic Myth' is a memory making Holiday event for the whole family…
And if you're not in the family way, we've got you covered with our outrageous, raucous and pretty much punk rock 'Adults Only' * version at limited showtimes.
Beer, mulled wine, hot chocolate and light concession are available for purchase.
Flynn Creek Circus is an all-human spectacle.
Free parking for show attendees at the location.
*ADULT VERSION- Please note these special showings are for patrons 21 years or older. The performance will include adult comedy and subject matter and is a different show from our family show.
Flynn Creek Circus was founded in 2002 as a rurally-based, circus-theater company.  Since then Flynn Creek Circus continues to offer entertainment to all ages and opportunity to professional artists. Touring in their new big top, the show presents International, award-winning talent to the smaller communities of the Pacific Northwest and beyond.  Flynn Creek Circus has influenced the advent of several new arts organizations and is a respected leader in the industry.
…is to radically inspire by demonstrating
disciplined artistic and athletic risk.
Thank you to our 2023 Season Supporters and Sponsors