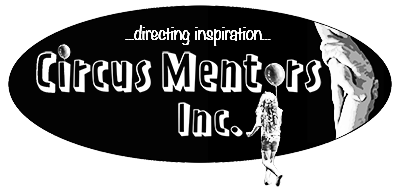 Supporting the Arts
Your tax deductible gift is directly applied to Circus Mentor programs. Thank you for your support!
Mission
Our mission is to magnify exposure to quality, physical performing arts for children, emerging artists and families. We accomplish this through our objectives: 1) increase access to the performing arts in rural communities through partnerships with arts organizations and family service organizations 2) award scholarships and apprenticeships, and 3) offer choreography and complete mentorship services to nurture emerging artists into professional independence.
UPCOMING EVENTS AND PROGRAMS
FLY FOR A DAY!
MAY 29TH & 30TH, 2022
FRIENDSHIP PARK, MENDOCINO
Circus Mentors Inc, in cooperation with the Community Center of Mendocino and our Sponsors present a family fun day on May 29 & 30, 2022. Families are invited to try Flying Trapeze coached by Oakland based Trapeze Arts Inc. This activity is fun to do and fun to watch! Workshop attendees will experience the full thrills of flying while being safely harnessed above the net. Participation by advance reservation for anyone ages 6 years or older. Families are encouraged and spectators are welcome. THANK YOU TO OUR SPONSORS BELOW.
JOEL BAKER- PHYSICAL COMEDY & CONNECTION WORKSHOP
CANCELLED
CROWN HALL, MENDOCINO
APPRENTICE AWARDEES IN ACTION
MEET THE 2022 APPRENTICESHIP AWARDEES.
Congratulations to Matthew Bagshaw and Lorynne Machado from Canada – 2022 Apprentice awardees.