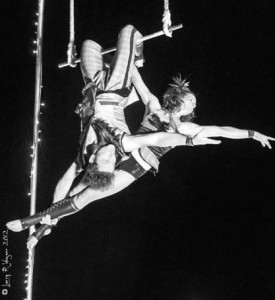 The Daring Jones Duo consists of the married couple, David Jones and Blaze Birge. They both trained separately with the Dumitrascus, a 5th generation Romanian circus family in the U.K. After their initial training, they returned to Northern California.  Rigging trapezes in majestic redwood trees on the remote Flynn Creek Pottery Ranch, they refined their skills. The Daring Jones Duo first combined their skills to form a dynamic double trapeze act in 2004. The isolation of their environment contributes to the originality of their choreography and lends a quality best described as "heart in throat". Combining speed, grace, and power they strive to inspire audiences with disciplined artistic and athletic risk. The Daring Jones Duo has been featured in both traditional and non-traditional circus all over the world, often preferring exotic location and adventure to name profile.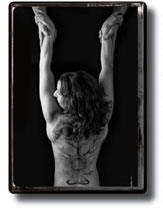 Blaze Birge is impatient with words like 'impossible'. Maybe this is why, at age 25, she began a circus career. After receiving degrees in Philosophy and Visual Arts and a short stint as a ceramic sculptor, Blaze decided to travel Europe with a 5th Generation Romanian circus family. As an apprentice, she learned circus arts – rigging, stake pounding, tent building and wound-nursing. Subsequent tours as a trapezist only deepened her appreciation for the 'traditional' circus. Blaze formed Flynn Creek Circus, hoping to merge what she admired about tradition with what she envisioned as innovation. Since that time, Blaze Birge has become an experienced choreographer, teacher, director, designer, producer, and aerialist. She currently focuses primarily on her performing work as part of the 'Daring Jones Duo'. She, her husband, and her daughter live and work internationally.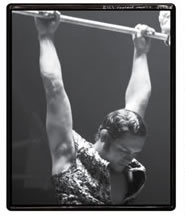 David Jones (a.k.a. DangerJones)
David doesn't talk much.  Maybe that's because he doesn't want to encourage too many questions.  His Grandfather's advice was to join the army, so David got good and drunk, stumbled into a trapeze artist, and consequently joined the circus.  Now arguably one of the top trapezists in the industry, David has surprised everyone, including himself.  He and his wife have received multiple awards.  David, his wife, and his daughter live and work Internationally.